The good news is that neuroplasticity is life long and provides new hope for change in adults with cerebral palsy, as well as in children. In addition, there are many more treatments and technologies now available than when these adults were discharged from Pediatrics.
The bad news is that adults with cerebral palsy have had a lifetime to firmly wire in their abnormal habits. Each individual is a unique person made up of their early experiences and this identity for the adult with CP includes all their abnormal movement and speech habits. Further, since all learning is experiential, they have not experienced normal movements and most find it hard to even imagine moving differently. (See, Moving Freely and Independence for My Daughter)
The ugly news is that there is no organized way for adults with cerebral palsy to access and benefit from the techniques and therapies that are now available. Most pediatric hospitals and clinics have firm age guidelines that discharge affected individuals at age 18 or at most, 21 years. There are few if any adult physicians or surgeons who are willing to provide care for these individuals. And prior to President Obama's health care plan, all would have been denied insurance coverage to pay for any such treatment or technology on the basis of pre-existing conditions. His new program has rewritten this part of the insurance companies' practice. Soon there will be affordable healthcare for everyone who needs it and there will no longer be a "pre-existing condition" exclusion.
It is very hard to write this blog because I recognize the challenges facing adults with CP. At first glance it seems overwhelming. I recently gave a talk at The CP Group (www.thecpgroup.org) in Washington DC. It was an interesting group of adults with various forms of cerebral palsy. I would estimate that half of the individuals were in wheelchairs. Since that time, I have been really thinking about where to start when there are so many problems to be addressed. I came down to two starting points that I think would apply to most people. The first is motivation to change and the second is pain management.
How motivated are you to change? I picked up "The Wisdom and Teachings of Stephen R. Covey" yesterday. I collect quotes and this book was made for me. It is a memorial to him that contains some of his best sayings. (Buy on Amazon) Under the principle of choice, I came across this one.
"Each of us guards a gate of change that can be opened only from the inside."
The first step to change is deciding that you are motivated to change. No one on the outside can do it for you. Change is difficult for many people. Staying where they are is less frightening than opening the "gate of change". Even if they are not happy where they are, they have difficulty seeing themselves in a different reality. When I work with adults, this first step is often the hardest.
There are two techniques that I have learned that seem to help this process. The first is searching out some "Change" role models. This site is a good starting point. Click here to scroll through and look at videos of change. Watch my TEDx talk to learn more about how brains recover. Search cerebral palsy on www.ted.com and you will find interesting talks by neuroscientists like Michael Merzenich and the debut of the British Paraorchestra.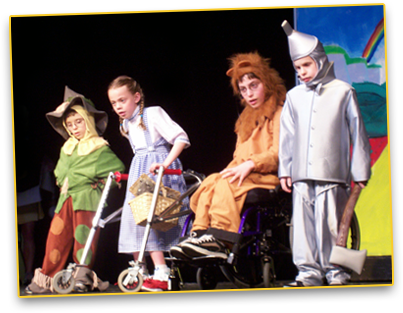 Another excellent video to watch is an introduction to the actors of Actors Without Boundaries at http://www.youtube.com/watch?v=FfXGQK9vbpE. This organization was started by Christine Rouse, my best example of a change artist.
You could easily spend hours watching TED and TEDx videos that bring you new ideas and evidence of change. Just as children cannot understand the concept of moving freely until they are given a situation where they can move freely, it is hard to think about change unless you can imagine it. (Moving Freely)
The second technique is picking something to change that can show results…measurable change…in a relatively short time. Success is the greatest motivator. Musculosketal pain is one of the most common problems reported by adults with CP and it is generally under treated. (The Good, Bad & Ugly Facts about Growth & Recovery) It is hard to do any type of exercise program if you are hurting.
If you have pain, recognize that this is one of the secondary complications of CP. It can and should be treated. The first point is to figure out what hurts and when. Children often do not complain of pain until it is excruciating. The "regular" aches and pains that they experience daily are normal to them. As an adult, you have the advantage. Make a list of your pains. Start at the top with headaches and move down your body. Try to figure out the intensity of your pain for each site. Are there things that make it better and things that make it worse? Put it all down and then make an appointment with your doctor.
Now this is the important point. Pick one type of pain, e.g. headache or muscle spasms or sore hip that you want to deal with first. Doctors are not magicians and they work best when they have a clear question to work on. There are two great books you might want to read. "How Doctors Think" by Jerome Groopman and "The Empowered Patient" by Elizabeth Cohen (www.elizabethcohen.com). Both these authors give valuable tips and techniques to get the most out of your encounters with the healthcare world.
In many situations of multiple, chronic pain sites, a referral to a pain clinic can be very helpful. You are more likely to make it to a pain management clinic if you do a bit of work on your computer to find out what is available near where you live. Doctors and therapists in these clinics like to solve problems and they know more about pain than the majority of doctors and surgeons. So if your case is complex, go to the experts.
Next week, I will write about some of the things to consider about getting ready for exercise and some of the types of exercise and physical therapies that are available. The first goal will be to decrease fatigue and improve endurance. Register on this site or subscribe to the RSS feed to be sure to receive notification of new posts.