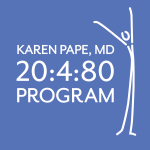 What are your most important goals for your child? Step one in the process of getting organized is to take the time to sit and think about this very important question. We often get lost in the day-to-day craziness of raising one or more children. If a child has cerebral palsy, the organizational problems are compounded by the child's needs. The sad truth is that the only persons that are able to impose some structure into the chaos are the child's parents and close family members. The way medicine and therapy is organized, there is little time for thinking and/or planning.
Physician appointments on average range between 10 to 15 minutes and therapist interactions range between 20 to 50 minutes. Both sets of professionals require at least 5 to 10 minutes after your appointment to do the required billing paperwork. They do not get paid to review your chart prior to an appointment and they do not get paid to think about goals, either short or long-term. It is an incredibly inefficient system. In many cases, it is compounded by the reality that the various professionals involved rarely communicate with each other.
My view is that parents need to self-educate and become experts in their child's particular problem. You do not need to know everything there is to know about cerebral palsy, just the type and severity of CP that affects your child. Start with the simple classification of Hemiplegia, Diplegia or Quadriplegia. This is what we call the topography of CP…classifying the problem by the body parts affected. The second step is using the GMFCS as a reliable measure of where your child is now. It is a starting point for thinking about the focus of therapy, determined by the child's needs.
Therapists do the work of rehabilitation. For your homework this week, ask each of your child's therapists to tell you what they consider the most important goal that they are working on. What is their plan to achieve it? I would like to hear about the responses.