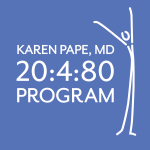 Whatever stage your family is at on the road to recovery after an early brain or nerve injury, it is important to stop and think about why you want therapy. What are you expecting from a therapy visit? Do you have specific goals for that visit? The sad truth is that there is little proven benefit to short, intermittent therapy sessions once or twice a week. We keep scheduling therapy this way because that is the way it has always been done.
Why is progress so slow in therapy? One cause is that we are not focused on replacing old maladaptive habits with new ways of moving. One of the most important discoveries on my journey was that children learn their early movement patterns with a damaged, immature brain. They are repeated over and over again and they become firmly wired into maladaptive habits. Think of a bad tennis serve that the young player puts together in childhood. The older, competitive athlete will have to replace this old habit with a new sequence of movements. It is hard work, but coaches and athletes worldwide know that it can be done. It took me a surprisingly long time, with the help of a few really pushy mothers and some great therapists, to realize that the same techniques of correcting form and lots of perfect practice could create new movement patterns in children with CP. There a lot of examples of how Habits Hide Recovery in my book and a growing awareness of the role of habits in the CP field.
The problem is that to replace old habits with new ones will require another major change…this one in the traditional service delivery model of rehabilitation centers everywhere. Short, 20 to 45 minute sessions 1 or 2 times a week will not produce lasting change. Ask any athlete…change requires purposeful, intensive practice. And the new neuroplastic treatments, now available, do their work in intermittent intensives. It is remarkable how much change can occur in as little as 3 to 5 days of intensive 3 hour sessions. Preventing maladaptive habits in young children is also easier to do with a focused, multidisciplinary approach in an intensive.
I expect some opposition to the concept of a service delivery model change, but parents can help. Are you satisfied with your child's progress? Would it be easier for you to organize 3 days of half day treatment every 2-3 months (with homework to do at home) or continue with your current treatment frequency? Let me know what you think after looking at this link.